Having received submissions from young composers from across the United States and abroad, we are pleased to announce the results of our 2023 Young Composers Competition. 
Our selected composer: Charlie Zhong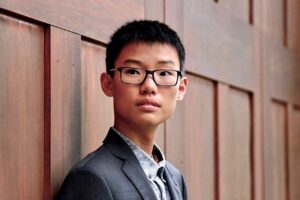 Charlie Zhong is an award-winning composer based in Boston, Massachusetts. His music explores complex topics through themes of attention, memory, transformation, and balance, in a way that is accessible to audiences while still pushing the boundaries of unconventional sounds and techniques.
In addition to winning the DeKalb Symphony Orchestra Young Composers Competition, Charlie was a winner of the 2021 National Young Composers Challenge, which included a world premiere by the Orlando Philharmonic Orchestra in 2022; he was the 1st place winner of the Metropolitan Youth Orchestra of New York's Emerging Composers Competition (2022-23), and is currently a national semi-finalist, high school orchestral division, for the American Prize in Composition (2023-winner TBD). He has also been awarded the ASCAP Foundation Irving Berlin Summer Music Camp Scholarship (2022).
Charlie is currently a sophomore at the Commonwealth School in Boston, and has studied with Tak Cheung Hui, David Hodgkins, Julien Siino, and Marco Flores-Villanueva. Please visit the composer's website for more information at https://www.charliezhong.com/.